The most customizable name generator ever!
Let the infinite particles of inspiration hit your brain
GenGen is a productivity application for iPhone that lets you take your own words and rules into a text builder engine and create surprising word combinations with it.
Now it comes with an Apple Watch extension application to boost your creativity on the go!
Basically you can create anything you can think of that is made of letters, words or icons on your iPhone keyboard: funny phrases, filler text for your website, inspiration for writers, passwords, domain names, company names, nick names, project names, names for your music band..
Brainstorming with GenGen is so easy and fun. Just input your own words, group them in related sets, create some rules using these word sets. You select which rules will feed your random generator. It will inspire you and unlock your writer's block in seconds.
Download GenGen for FREE on the AppStore now and enjoy this awesome ad-free creativity booster application.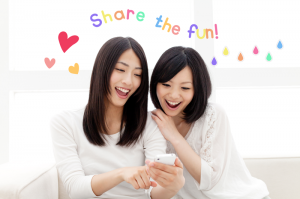 Share the fun ❤
✓ generate passwords, company names, domain names, nick names, character names, fun phrases
✓ or use your imagination to build anything else!
✓ generate millions of different phrases even if you don't add your own words because it comes with a list of categories, words and rules ready to run
✓ remove or add categories, words and rules to create your own phrases with your own language
✓ add generated text to your favorites
✓ delete items you don't want anymore by swipe left gesture
✓ share the fun with your friends on Facebook, Twitter, or via email
✓ creates funny phrases for pajama parties, laugh out loud together all night long
It's a conversation starter!
Serious business owners
GenGen custom name generator is the starting point for entrepreneurs and start-ups.
It will help you generate original names for your company and your projects targeted for your market. It combines the element of surprise with your own seo keywords. Feed the generator with the keywords that target your product's search engine optimization. And instantly get inspired.
Just give it a try!
You will be surprised with the unthought-of combinations it delivers.
What is new in version 3.0
– A whole new look, totally reprogrammed in Swift language
– Watch app extension added, you can now inspire yourself with one touch on your watch
– A help screen with user friendly explanation of how the application works
– Rule creation made easier with picker
– Delete items using swipe left gesture
– New creative app icon
– Additional words pack in app purchase
What will be in the next version?
Let us know which features you want to see in the next version of GenGen.
Here is our list of new features to implement:
– Connect the Apple Watch app and get data from custom iPhone rules.
– An option to use thesaurus or synonyms
– Domain name .com availability check
Review
I made the following domain names with this:

❤ InstaGnome
❤ LoL Lab
❤ Hip Knit
❤ Pet Pla.Net
❤ Red Riding Dude
❤ Cute Craft
❤ Geek Knit
❤ Wizards of the Post
❤ Lace Age
❤ Bowsome!

It is super customisable!
I would definitely recommend this to anyone who is into starting their own business and looking for a name for her project or company.

MaeJP
Lets you generate random names or text strings by seemingly simple rules (like "firstname lastname", where both firstname and lastname are categories or word lists). You can select which rules are running with an on/off toggle in the rules list. So, quite promising.

Clumsy in that there are no ways to weight how rules appear, only on or off. Or in that there is no apparent way to delete a list item one it is entered- one typo and it's time to start over. Or in that you have to use your iPad/iPod to generate the lists-not using your computer's greater ease of use to spell check, edit, etc.

A little work would make this the best random text generator I have seen in the app store yet, but it isn't quite there yet, in my opinion.

JohnTheOtherJohn
i made a blog using this app. it's super customizible and creates things exactly on my word and rule entries!

PetitCouchette
This is a great app. It's very handy for creating usernames, basic phrases, passwords, company names, or simple phrases. I love this app and you really should download it. GenGen is the best text generator on the app store. 

Homeslicehq
Comment, Request & Bug Report