Chibi Me in Top 10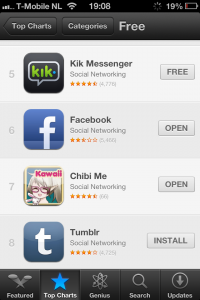 Our avatar creator app Chibi Me is now in Top 10 List for Social Networking category, in the same page with Facebook and Twitter!
Thanks to all Instagram and Facebook fans for their 5 star reviews, we are reading them all, and taking into account all the nice suggestions for our future updates.
Hopefully in the future updates we will try to add the body, boy/girl selection, text addition, photo filters and instagram sharing, restore button for previous purchases.